Roper/Rooper Families in Britain
(www.roperld.com)
I have worked for over forty years on the Roper/Rooper family history in the United States and England.
I have many data for Roper families in England.
There is a large northern United States Roper family descended from John Roper who came from New Buckingham/Diss, Suffolk, England to Massachusetts c1637. Y-chromosome tests have shown that this family is related to the large southern Roper family that originated in Virginia in the early to middle 1600s and the Nova Scotia, Canada Roper family. They all are part of the larger Hoxne, Suffolk, Roper family. (I have many data for this family.)
Despite large efforts by me and others, no specific connection is known between the northern and southern Roper families. However, they are connected, which is shown by the Roper male-lines Y-chromosome project. This is called the Majority USA Roper (MUR) or the RY1 family.
Despite large efforts by me and others, none of the southern Roper families connections to England are known. I continue to work and hope for finding those connections.
The Roper male-lines Y-chromosome project has found the following:
The large Massachusetts and Virginia Roper families are related.
Some English Ropers (PJR, APR, RPD & AGGR) with Suffolk ancestry are related to the Massachusetts (NJR, CFER & DR) and Virginia (Majority USA Roper, MUR) family. The exact relationship between these two English and USA families is unknown. This combined family is called the England/USA Roper (EMUR) or RY1 or Hoxne, Suffolk, England family.
An English Roper family (ITR, CR, EJR2 & DJR) with Suffolk ancestry is related to a West Virginia Roper family (AWR & HSR) but not to the large Virginia Roper family. The exact relationship between these two English and USA families is unknown. This family is called the RY5 family.
One specific southern Roper (the author) has exactly the same 37 markers as one specific northern Roper (NJR). This seems to imply that two distant branches of Roper families came into Virginia in the early to middle 1600s, one being more closely related to the northern Ropers than the other.
There are many unrelated Roper families in England and several unrelated Roper families in the USA. Note the two different Suffolk Roper families mentioned above. There appear to be at least eight unrelated Suffolk/Norfolk families.
A major armigerous Roper family in early England is:
York Co. England: 17
Middlesex Co. England: 9
Essex Co. England: 2
Lancaster Co. England: 14
Surrey Co. England: 6
Durham Co. England: 1
Lincoln Co. England: 11
Dorchester Co. England: 6
Nottingham Co. England: 1
Norfolk Co. England: 11
Devon Co. England: 3
Warwick Co. England: 1
Gloucester Co. England: 11
Antrim Co. N. Ireland: 3
Worcester Co. England: 1
Suffolk Co. England: 10
Shropshire Co. England: 2
Somerset Co. England: 1
Brecon Co. Wales: 10
Stafford Co. England: 2
Glamorgan Co. Wales: 1
Note that none are shown for Derby or Kent where they originated. There was a definite migration to the north from Kent (to Norfolk, Suffolk, Lincoln, York and Lancaster). Also, note the concentration in the Gloucester Co. England-Brecon Co. Wales area.
View a map of the British Isles counties.
Some of the early data about the Ropers of England come from the following documents:
Teynham Manor and Hundred 789-1935, Elizabeth Selby, Meresborough Books, 7 Station Rd., Rainham, Kent, ME8 7RS England, 1935/1982.
The Rooper Story, John Royden Rooper, London, 1958.
A History of the Three Villages of Kingsdown, Lynsted and Norton in the County of Kent, William Hill, The Vicarage, Lynsted, Kent, England, 1984.
Notes about Roper documents in England:
In the Beauchamp tower of the Tower of London there is a very clear carving "Thomas Rooper" in one of the cells. A pamphlet itemizing all the scratchings on the walls and any information known of the authors states: "THOMAS ROOPER 1570 may have been a member of the Roper family into which Margret, daughter of Sir Thomas Moore, married. Throughout the reign of Elizabeth I, the Ropers were often described as the Queens enemies."
There is a contemporary Lord Roper.
My Roper ancestry goes back to my sixth great-grandfather John Roper, Jr. (b c1660 d bef1759 VA) in New Kent and Charles City Counties, Virginia in the late 1600s. My fourth great-grandfather, David (b bef1727 VA d 1795 NC), moved to Orange/Caswell County, North Carolina c1760 and on to Burke County, North Carolina c1790. I have not been able to connect this family to England, although the Roper male-lines Y-chromosome project indicates that I and my known relatives are related to the Massachusetts Ropers and some English Ropers who descend from about 8 to 10 generations (about 200-250 years from about 1500 to about 1750) that lived in the small village of Hoxne (pronounced Hoxen) in Suffolk. Hoxne is well know for a very important archealogical site there. (See http://www.britarch.ac.uk/BA/ba56/ba56feat.html and http://www.stedmundsbury.gov.uk/sebc/visit/beginning-of-man.cfm. The Major Interglacial 420,000 years ago is named after Hoxne. We are in the fourth Major Interglacial since then; they occur about every 110,000 years and last about 10,000-15,000 years with most of the time in between a very cold Major Ice Age. There is a book The Lower Paleolithic Site in Hoxne, England that describes in great detail the discoveries made at Hoxne.)

Michael John Roper (RStelmar1996@aol.com)of King's Lynn, Norfolk, England has compiled the following list of Roper families on which he has done work:
The Ropers of Lincolnshire based around Algakirk (near Boston) from the early 1500's onward. Thomas Roper of Jamestown who died c1625 is in this line.
The Ropers of Mancetter (near Atherstone) Warwickshire. This lines includes the London printer Abel Roper (apprenticed to his uncle, another Abel), publisher of some scurrilous stuff in his time.
The Ropers of Norfolk, including the Ropers of SW Norfolk (probably your ancestors).
A Roper line first appearing in parish records at Halifax,Yorkshire, in the 1500's.
A Roper line I refer to as the 'Morecombe Bay Ropers' who were Lancashire traders in the 1800's. They had ships built which were named after them. See: http://www.yachtingrid.demon.co.uk/index.html
A Roper line appearing in the parish registers of St Margaret Westminster, (Church for the Houses of Parliament) in the early 1600's, headed by an Arthur Roper who was born in Kent, I think, in the late 1500's.
I am providing my computer as the repository of Roper family data. I wish to collect all Roper family data that I can. Please contact me and tell me all you know (names, dates and places of births, marriages and deaths) about your Roper ancestry. (I like to have details about parents of spouses, also; that often helps to make family connections.
I have visited England several times collecting Roper families data and meeting Ropers. I wrote a report of my 1992 visit: Visit1992.pdf
Roper meetings in England:
Distribution of Ropers in England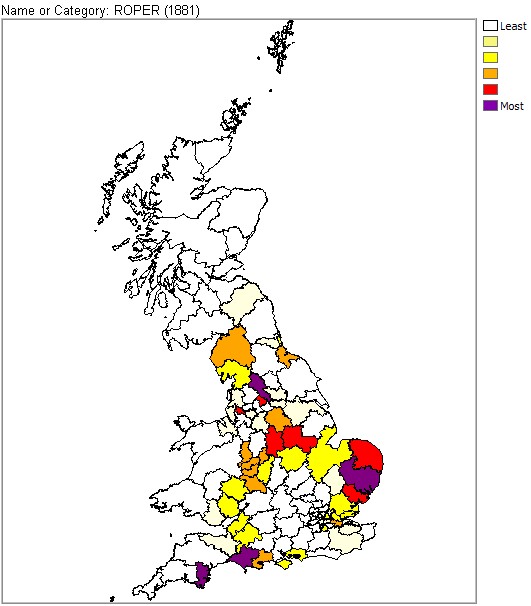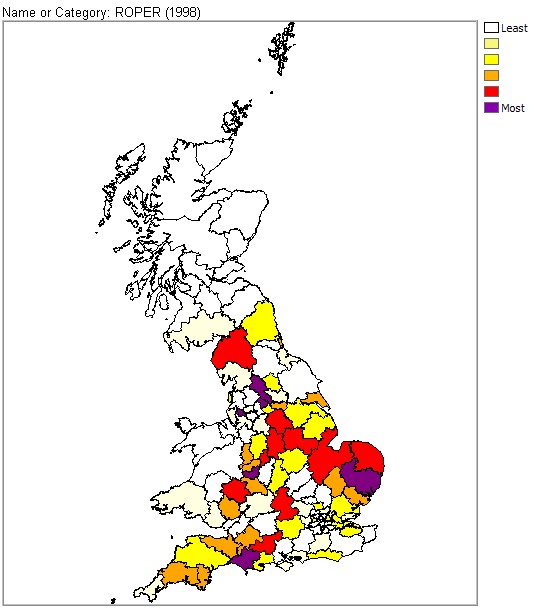 Roper male-line Y-chromosome testing project
L. David Roper genealogy web page.
Return to top.