Places with Roper in the Name
(www.roperld.com)
Ropers Church Road (VA Rt. 621) crosses Interstate 64 about 33 miles east of Richmond near Barnes Swamp, Diascund Reservoir and the town of Lanexa on Rt. 60. It is very near the New Kent/James City County line. The church is long gone and there is nothing left but remnants or signs of the foundation. There were Roper's in New Kent, so the church was probably named after the family. Roper's Church was Methodist. It was in existence in 1864, as Grant camped there during the Civil War. (See http://home.att.net/~edboots/101history.htm for its role in the Civil War.) Supposedly Mr. Roper (don't know which one) decided that he wanted an open air church and had the sides torn down. This did not appeal to the congregation and, as Tabernacle had been formed, most of the congregation drifted there. Also, apparently Mr. Roper was not a very likeable person and that probably hastened the demise of the church. There is no information about Roper's Church in Dr. Harris' book, Old New Kent County. As he only put information in the book on people and places that existed in Revolutionary times, this leads one to believe that Roper's church did not exist in the 1700's. (Thanks to Teresa Lindsay [tdlndsy@aol.com] for this information.) For further information about John Roper's land in this area see
I later found that only William H. Roper is listed as a Roper head of family in the 1850 census for New Kent County. Apparently he was the builder of the church. The church was on his farm acreage.http://boards.ancestry.com/mbexec/msg/rw/oBC.2ACI/920.2.
Roper Hospital in Charleston SC was founded by Thomas Roper in 1829.
Roper Hall at American University in Washington DC was named after Daniel Calhoun Roper.
Roper AL at the intersection of Mountain Ridge Rd., Roper Rd. & Roper Tunnel Rd. south of Rt. 7 about 14 miles northeast of Birmingham AL in Jefferson County.
Roper GA on old Roper Rd. that parallels Rt. 221/135 about 5 miles southwest of Hazelhurst GA in Jeff Davis County.
Roper's Crossroads GA at intersection of Rts. 232 & 2120 at the nortwest corner of Augusta GA
Roper KS on Rt. 39, off of Rt. 75/30 about 4 miles southwest of Buffalo KS in Wilson County.
Roper KY on a private road near the intersection of Hopkins Cemetery Rd. & Rt. 1763 off of Purchase Pkwy about 5 miles southwest of Wingo KY in Graves County.
Roper NC on Rt. 64/32 about 7 miles southwest of Skinnerville NC in Washington County at 35°52'40"N 76°36'56"W. Population was 669 in 1990. (There is a Roper Pentecostal Holiness Church there.)
Also, see: http://www.vergie.com/roper.html
Roper Springs NC near intersection of Rts. 1801 (Justice Branch Rd.) & 1520 about 2 miles east of Littleton NC in Halifax County.
Roper's Crossroads SC at intersection of Rt. 19, Repubican Rd. & Lanham Rd. in South Carolina about 15 miles north of Augusta GA and about 8 miles south of Edgefield SC.
Roper Road east off of Rt. 340 3.5 miles south of Charles Town, WV. This is connected with the Nicholas Roper family.
Roper, AL is in Jefferson County at 33°36'23"N 86°34'49"W
Roper, GA is in Jeff Davis County at 31°48'43"N 82°39'6"W at elevation 251 feet.
Roper, KS is in Wilson County at 37°39'40"N 95°43'57"W at elevation 863 feet.
Roper, KY is in Graves County at 36°36'53"N 88°48'22"W.
Roper UT is in Salt Lake County at 40°42'50"N 111°54'26"W.
There is a Roper's Rock at Lookout Mountain near Chattanooga TN. Also, Federal troops scaling Roper's Rock after Battle of Lookout Mt. and https://www.cardcow.com/11771/ropers-rock-lookout-mountain-chattanooga-tennessee/
Roper Lake State Park, Safford AZ
Roper Lake State Park, 101 East Roper Lake Rd, Oakley ID 83346
Roper Mountain Science Center on Roper Mountain in Greenville County, SC
Roper Creek begins in southeastern Fayette County Texas (at 29°46' N, 96°49' W) and flows east for 5½ miles to its mouth on Brushy Creek, which leads to the Colorado River (at 29°47' N, 96°46' W). ). It flows through low rolling hills and prairies with loamy surface layers and cracking clayey subsoils. The vegetation consists primarily of oak savanna, grasses, and mesquite.
Roper's Knob off Liberty Pike in Franklin TN, 20 miles south of Nashville:
Nance, Benjamin C. (Tennessee Division of Archaeology). 2001. TEST EXCAVATIONS ON ROPER'S KNOB: A UNION FORTIFIED SIGNAL STATION IN FRANKLIN, TENNESSEE. In the fall of 2000, the Tennessee Division of Archaeology conducted test excavations on Roper's Knob, a high prominence in Franklin, Tennessee. During the Civil War, Roper's Knob was fortified by the Union Army and used as a signal station. The fortifications consisted of an earthen redoubt, a blockhouse for 60 men, entrenchments surrounding the redoubt, and an abatis. An engineer's report also reveals that the site had two cisterns and a magazine. Excavations focused on identifying these Civil War fortifications. Another component of Roper's Knob is the site of a house that probably dates to the first half of the nineteenth century. This was possibly the home of the Roper Family for whom the knob is named.
Park Marshall, Franklin, TN mayor and historian of some years back, said that Roper's Knob was named for Mr. Roper who lived there but did not own the land. It was already named Roper's Knob at the beginning of the Civil War.
Tidewater Community College Jeanne & George Roper Performing Arts Center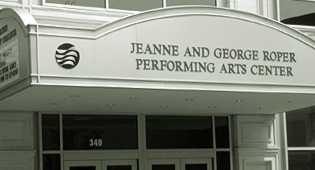 Lydia H. Roper Home for women over 65, Norfolk VA
USS Roper Naval ship. More: http://www.nvr.navy.mil/nvrships/details/APD20.htm
Before sinking the U-85, the Roper rescued survivors of a torpedoed ship, including a baby boy born in a lifeboat. The grateful mother named the baby Jesse Roper Mohorovicic.
In Ingonish, Cape Breton (Victoria County) Novia Scotia, Canada there are Roper Road, Roper Bridge and Ropers Road. Several Ropers live near there; they are part of the Majority USA Roper family.
Roper Bay is in northern Saskatchewan province of Canada.
Roper's Meadow is in southern British Columbia province of Canada.
There is a Roper Road in Canterbury, Kent, England, associated with the William Roper & Margaret More family.
There is a Roper Street in Eltham, London, England.
Roper's Green,Semer,Suffolk,England
There is a street Roper Gate Chambers in Pontefract, West Yorkshire, England
There is a Roper River in the Northern Territory of Australia. It was named after John ROPER, who was on Leichardt's second expedition in Australia, as it was on his birthday when the river was first seen.
See: http://www.wheretostay.com.au/towns/8/Roper_River
http://www.stjameschurchsydney.org.au/Parish_Council/Papers/dwm_discussion_paper.asp
There is a Roper Highway in Australia which passes through Urapanga Station.
An English/Australian ship named George Roper; also see http://www.paradisedivers.com.au/sites/f-georgeroper.htm and http://www.bruzelius.info/Nautica/Ships/Fourmast_ships/George_Roper(1883).html
Roper's Heath in County Suffolk, England
There is a Roper Street in Whitehaven, England
Roper's-rest was a street in Dublin, Ireland, now known as Greenville-ave. Thomas Roper, Viscount Baltinglass died there in 1638
British Schooners Jane Roper and Tom Roper
Mount Roper in Antarctica: Quote from "Antarctic" Bulletin Vol. 14 No 2 - June 1996 - page 70 & 71 "The New Zealand Geographic Names Board recently approved the naming of Varcoe Headland north of Cape Royds, Ross Island, for Garth Varcoe" (he died in a helicopter crash down there) "and Mount Roper in the Royal Society Range for Cas Roper." " In 1986 Cas was awarded the Queens Polar Medal for his scientific services in Antarctica. Retiring from DSIR in 1989, Cas set up his own radio frequency forcasting service at Christchurch (International) Airport to advise principally on sun-spot activity." (this helped with the flights down to Antarctica - re radio frequency channels) "......Today Mount Roper faces across McMurdo Sound towards the Base in which Cas spent so many months of his working life leaving numerous transient NZAPs with warm and comfortable memories of him"
Cas Roper is Charles Ashley Roper (b 2 Apr 1919 Christchurch, Canterbury, New Zealand d 11 Dec 1994 Christchurch, Canterbury, New Zealand). His earliest-known ancestors is Richard Roper (b c1780 Suffolk, England d 8 Apr 1850 Buxhall, Suffolk, England) and Elizabeth Harvey (b c1789 Suffolk, England d 22 Jun 1867 Great Finborough, Suffolk, England).
www.roperld.com