The Origin of and Facts about the Roper Surname
(www.roperld.com)
Old English saying: Trust not the roper to craft his own noose.
The Ropers of Sterling and Rutland, by Ella E. Roper, 1904 (available from Higginson Books: http://www.higginsonbooks.com):
"The name of Roper has been evolved from a somewhat fantastic origin. ... our first known ancestor, one Musard, (probably of Norman descent) becomes Hasculphus. His grandson, William of Miserden, Gloucester County, assumed the title De Rubra Spatha, or Red Sheath, in the time of Henry III [Ed:1216-1272]. This was shortened into Rospeare and passed through the various stages of Rousper, Rooper, Ropere and Roper, to the last of which the family has held."
The Roper Family, an old book:
"The name of this family has been variously written; for from Musard it changed to Rubra Spatha, Roper, Ropere and Roper, as observed by Mr. Philipot, in his Survey of Kent, under the title of St. Dunstan's, in Canterbury (the ancient seat of the family).
Hasculphus Musard, Lord of Stavely, in Derbyshire, was father to
Richard Musard, who died 33 Henry II [Ed:1154+33=1176] and had two sons:
1. Hasculphus, who enjoyed the paternal estates.
2. William, who assumed the name of Rosper, or de Rubra Spatha (as written in old dateless evidences)".
The Norman People R929.3 N789, p.382: Roper, or de Rupierre. This family has been supposed to be descended from a member of the house of Musard, who is said to have assumed the name of 'Rospear or De Rubruspatha;' but there is no evidence for the statement. The name is derived from Rupierre near Caen, Normandy, the lords of which were of great importance in the 11th & 12th centuries (Des Bois). William de Rupierre (who came to England with the Conqueror) is mentioned by Ordericus Vitalis; in 1090 he commanded the forces of Duke Robert. The Counts of Rupierre continued in Normandy till the last century. In 1099 William de Rupierre possessed Trenouville, Grenteville, and Fremont, and was a benefactor of Troarn. The seal of Roger de Rupierre represents a shield divided into twelve squares, each containing a martlet, the original evidently from which the modern Roper arms are derived. In England Robert de Ruperia paid fines in Notts and Derby; and the heiress of John Rooper of Turndish, Derby, m. De Fourneaux, who assumed her name. Roger de Rupers, of the Norman line, held lands in Warwick or Leicester, t. John, where he granted the advowson to Tewksbury Abbey. From his family descend the Roopers and the Barons Teynham.
Some books state that the surname Roper was applied to people who made ropes.
The Roper male-lines Y-chromosome project has shown that there are 26 (as of August 2006) unrelated Roper families for which a member has been tested. (See http://www.roperld.com/RoperGenetics.htm .) Just in Suffolk alone 8 unrelated Roper families have been tested. I suspect that there are hundreds, perhaps thousands, of unrelated Roper families in Great Britain.

There, indeed, is the well-known armigerous Roper family from Kent. (See http://www.roperld.com/RoperEngland.htm and http://www.roperld.com/teynham.htm .) I have not been able to persuade a male-line descendant of that family to be tested yet, so we do not know if one of the 26 tested unrelated Roper lines is that line.

Undoubtedly, most of the hundreds or thousands of unrelated Roper lines got their surnames because they made ropes.
Thomas Rooper (b c1641 Heanor, Derby, England) passed the Rooper name down to the present generation. One of his descendants, Herbert Charles Rooper (b 1852 England) moved to Antelope, Wasco, OR and has many descendants in the United States.
The surname Raper:
http://www.the-black-country.co.uk/bcs_articles/surnames.htm :This is a surname which suggests the lowest form of man in today's times. It is simply a corruption of ROPER, "a maker of ropes". RAPER is a north of England surname, its pronunciation is actually nearer to the original than that of southern ROPER.
Several persons with the surname Raper have changed it to Roper.
There are many people of Cherokee ancestry with the surname Raper.
E-mail from Jacqui Lay: I was looking at your web site about the Roper name and noted you mention that the name Raper comes from Roper - maker of ropes - this I believe is not the case. I am sure that there are many Ropers whose name does stem from the meaning 'maker of ropes' however Raper has a different meaning.

My father always told us as children that our name, Raper, came from a measurement - Rape and the Raper measured the Rapes. The measurement Rape is a about an acre and was the size of land people farmed in Britain when strip farming was being undertaken during the Saxon period. The Rapes were measured out by the Raper using a rope with knots in to ensure the correct amount of land was allocated to each farmer.

There is also another meaning for the word Rape in Britain again related to land and measurement. The Rapes of Sussex were administrative areas dating back again to the Saxon period.

Other meanings for the word Rape in Britain are a plant, Brassica Napus - commonly seen growing in the fields today - and also the residue of grapes, after the juice has been extracted, used as a filter in making vinegar.
I have found Germans with the surname Röper. Some Roper families in Texas are of German origin.
Watch out for confusing the surname Rosser with Roper in early United States records, because ß was often used for the first letter of the double-s, which is difficult to distinguish from the letter p in handwriting (Roßser looks like Roper).
I have many data on the Roper family in England. The northern United States Ropers, who descend from John Roper who came from England to Massachusetts c1637, are well connected back to southern Norfolk county in England. (I have many data on this family.) Despite large efforts by me and others, none of the southern (Virginia) Roper families connections to England are known. I continue to work and hope for finding those connections. However, the large northern (Massachusetts) Roper family and the large southern (Virginia) Roper family have been shown by Y-chromosome tests to be related; this family is called the Majority USA Roper (MUR) or RY1 family. Some Roper families still in Suffolk and southern Norfolk have been shown by Y-chromosome tests to be related to the MUR./RY1 family; this larger family is called the Suffolk/USA Roper (SUR) family. There are other Ropers in the USA that are not in SUR/RY1.
I am providing my computer as the repository of Roper family data. I wish to collect all Roper family data that I can for all racial ancestries. Please contact me and tell me all you know (names, dates and places of births, marriages and deaths) about your Roper ancestry. (I like to have details about parents of spouses, also; that often helps to make family connections.
Ropers often ask me if there is a crest or coat of arms for the Roper family. The short answer is "no". The long answer is that there are some titled Ropers that have such. For example, see my web page about the Barons Teynham. A few Ropers also bore the Baron Dacre title.
I know of six towns named Roper in the United States. The counties and states are: Jefferson AL, Jeff Davis GA, Wilson KS, Graves KY, Washington NC and Salt Lake UT.
In the 1990 US census the frequency of ocurrence of the Roper surname was 0.008% with rank 1608.
Map of the distribution of people with the surname Roper in the 1850-1990 U.S. censuses.
In England the rank is 763
Roper surname frequencies in Britain: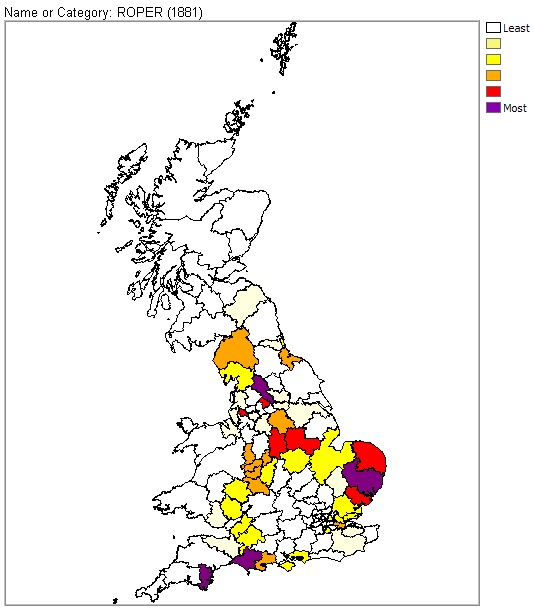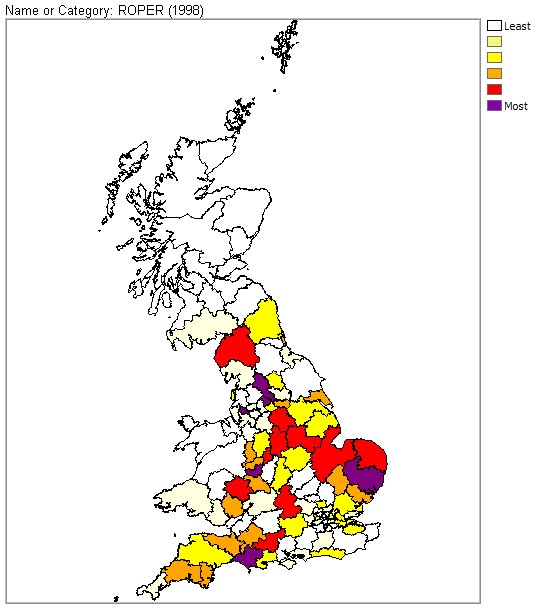 Back to the top of this page.
www.roperld.com