Franklin Families in the United States and Britain
(www.roperld.com)
"Franklin, a title bestowed upon the English landowners previous to the Norman conquest, who held their lands of the Crown free from any feudal servitude. In later years they lost their power and dignity, which was usurped by the Normans and became simply wealthy yeomen." Encyclopedia Americana, V.12, 1944 Ed. p.13
"The surname Franklin was variously spelled Franckline, Franklyne, Franklin, and Franklyn in the Ector Parish Register in England...The root of the name, 'Frank', is as old as any word in the Celtic tongue...Orginally the word was an adjective meaning 'free' " Benjamin Franklin by Tourtellot, 1977, pp.12-13.
It has been claimed that the Franklin surname originated in Buckingham County England before 1100.
Many emigrant families to the USA took the surname Franklin because of the world fame of Benjamin Franklin, statesman. lThere are probably many hundreds of independent Franklin families in the US, which makes the genealogy difficult. However, I collect data for all Franklin families.
I have worked for over thirty years on the Franklin family history in the United States and England and have a large amount of data.
My Franklin Family
My Franklin ancestry goes back to my fourth great-grandfather Henry Franklin, Jr. in Amherst County, Virginia in the middle 1700s. My third great-grandfather, Anthony Franklin, moved to Highland County OH c1795. My second great-grandfather Thomas Wingfield Franklin moved to Knox County IL c1854. My great-grandfather Joel Wingfield Franklin was married four times; first to my great-grandmother Sarah H DeShane in KS, then in WA and OR. My grandfather Roy Ray Franklin lived in KS, OK and CA, where he died. My mother is Eva Lucille Franklin, who was born and died in OK.
Benjamin Franklin (17 January 1706 Boston MA 17 April 1790 Philadelphia PA), Statesman
The Franklin surname was made famous by scientist and statesman Benjamin Franklin, whose family originated in Ector, Northampton Co. England with Thomas Franckline and Margerie Meadows. Almost every Franklin family in the United States has a family tradition that they are related to Benjamin. Mine is no exception. The data are good for verifying this tradition for some Franklin families; for mine there are no such data. It is now possible to test for the genetic connection of the various branches of the Franklin family by Y-chromosome tests of male-line Franklins, to see which ones are related to Benjamin and to each other. I initiated such a project, which is now managed by another person: http://trackingyourroots.com/FranklinGenetics/. If any male Franklins are interested in participating in this project, contact Lisa Franklin.
Lisa R. Franklin RN,BSN
Benjamin Franklin Links:
The Benjamin Franklin Tercentenary Commission has been established to honor Benjamin Franklin on his 300 birthday (17 January 2006). One of the purposes of the Commission is "The acquisition and preservation of artifacts associated with Benjamin Franklin." Determining the Y-chromosome markers for Benjamin Franklin would be, in my opinion, the ultimate artefact related him.
I know of no well-established genealogies of any Franklin male lines that connect back to Benjamin or his brothers or uncles. The Franklin Genetics Project is partly an attempt to find such Franklin male lines. The only good genealogy that I know of that connects back to Benjamin Franklin, statesman, is the line of his daughter Sarah Franklin (11 Sep 1744 Phil. PA 5 Oct 1808 Phil. PA), who married (29 Oct 1767 Phil. PA) to Richard Bache (12 Sep 1737 Settle, York, England 29 Jul 1811 Settle, PA). (Some say that the name is pronounced Beech.) Data for this family can be downloaded. An obituary for a member of this family, Benjamin Franklin Bache (b 7 Feb 1801, Albemarle Co. VA d 2 Nov 1881, Brooklyn NY) is available. (There are at least six Benjamin Franklin Baches.)
So, you think that you are related to Benjamin Franklin, statesman?
I am on a quest to obtain information about the DNA of Benjamin Franklin, statesman.
Ben Franklin Live! (Actor Christopher Lowell)
Other Franklin Families
Several Franklin families in the United States originated because an immigrant chose Franklin as a new surname. I collect all those data, also, if only to not confuse them with the ones from the older Franklin families.
There are twenty-five states with counties named Franklin: AL, AR, FL, GA, ID, IL, IA, IN, KS, KY, LA, MA, ME, MO, MS, NC, NE, NY, OH, PA, TN, TX, VA, VT and WA. There are at least fifty-two towns/cities named Franklin; only twelve states (AK, CO, DE, HI, ND, NM, NV, RI, SC, VT, WA and WY) do not have any; states with two are AL, IN, MN, MS and NC; states with three are PA, WV and WI; NJ has four.
Map of the distribution of people with the surname Franklin in the 1850-1990 U.S. censuses.
In the 1990 census the frequency of ocurrence of the Franklin surname was 0.051% with rank 199. In England the rank is 394. Apparently many Franklins in the USA get there surname by changing it to match Benjamin Franklin's.
A state called Franklin once existed, but not for long (1784-1789). For details see:
http://farad.xtn.net/virtual/mainmenu/jcmpo/Funstuff/franklin.html
http://www.civil-liberties.com/factoids/franklin.htm
http://www.rootsweb.com/~genepool/franklin.htm
Book: History of the Lost State of Franklin
A Herbert H. Franklin manufactured a car from 1902 to 1934. He descends from Jonathan Franklin (b c1640 MA d 1692 MA) and Sarah Smith (b c1645 MA d c1707 MA).
The 2% Extract of the 1851 U.K. census has 153 Franklin heads of households as follows:
Gloucester Co. England: 38
Middlesex Co. England: 11
Cambridge Co. England: 2
Berk Co. England: 16
Northhampton Co. England: 5
Hampshire Co. England: 2
Huntingdon Co. England: 15
Warwick Co. England: 5
Worcester Co. England: 2
Bedford Co. England: 14
Oxford Co. England: 4
Lincoln Co. England: 1
Buckingham Co. England: 14
Essex Co. England: 3
Shropshire Co. England: 1
Norfolk Co. England: 12
Hertford Co. England: 3
Surrey Co. England: 1
Note that Franklins are still in Buckingham, where they supposedly originated.
View a map of the British Isles counties.
Distribution of Franklins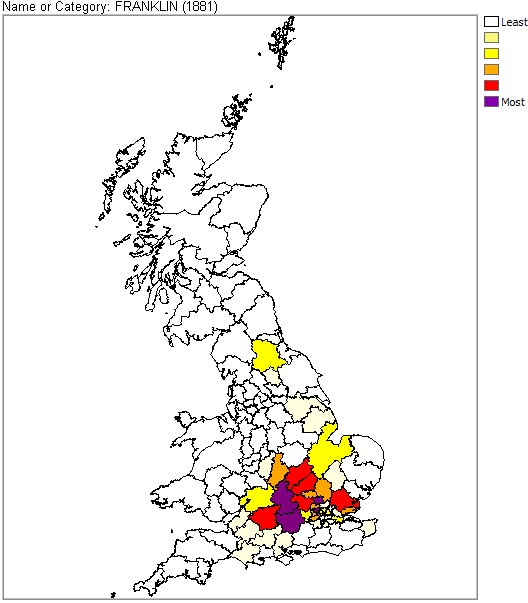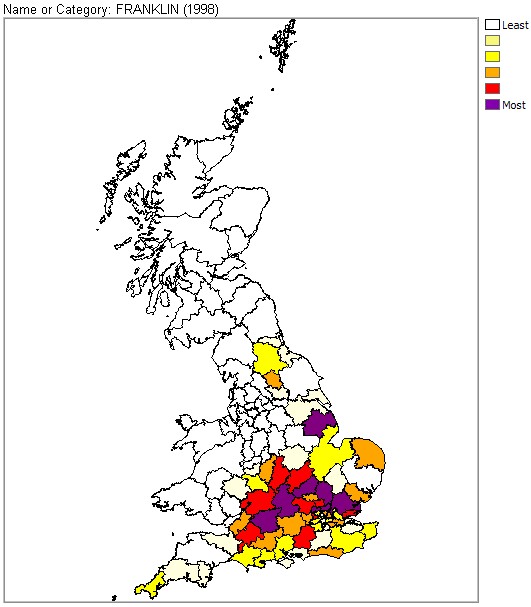 Some of the data about the Franklin families came from:
Amherst County, Virginia In the Revolution, Including Extracts from the "Lost Order Book" 1773-1782, Lenora Higginbotham Sweeny, J.P. Bell Co., Lynchburg VA, 1951.
The Franklin Fireplace, Vols. 1-2, FHL microfilm, 1968-1975.
Franklin Family, Margie Franklin Downer and Betty Franklin Downer, 1990
The Descendants of James Isaiah Franklin, Chaplain Dan Franklin, 1992, Higginson Book Co.
Franklin Pedigree Chart, Elaine Franklin Giddens, 736 Dogwood St., Jasper TX 75951, 1993.
Franklin Family Researchers United, Vols. 1-21, Elaine Franklin Giddens, Ed., 736 Dogwood St., Jasper TX 75951, 1991-7
I am providing my computer as the repository of Franklin family data. I wish to collect all Franklin family data for all ethnic ancestries that I can. Please contact me and tell me all you know (names, dates and places of births, marriages and deaths) about your Franklin ancestry. (I like to have details about parents of spouses, also; that often helps to make family connections.
Franklin male-line Y-chromosome project
Benjamin Franklin's DNA