Sheila L. Skemp, Benjamin and William Franklin, Father and Son, Patriot and Loyalist,
Bedford/St. Martins, Boston, 1994.

p.143: On 19 June 1776 William Franklin was arrested.
p.148: He was a prisoner at Wallingford and Middleton CT. In May 1777 he was taken to a jail in Litchfield CT.
p.149: In October 1778 he was released from the Litchfield jail.
p.150: In the fall of 1782 he left for England. In 1785 he met Benjamin at Southampton, England where Benjamin left for America.

Note below that there is a disagreement about the jail where William Franklin was held. This book and the following book states that it was the Litchfield Ct jail. The third book states that it was the Simsbury Mines jail.
Willard Randall, A Little Revenge, Benjamin Franklin & His Son, Little, Brown and Co., Boston, 1984:
p.445: William Franklin was put in the Litchfield CT jail on 2 May 1777.
p.458: William Franklin was moved to a private home in East Windsor CT on 31 December 1777.
p.461: On 1 November 1778 he was taken to the British forces in New York City.
p.479: On 13 August 1779 he sailed to England.
p.488: Benjamin and William met for the last time in August 1785 on the French coast before Benjamin went to America.
p.449: William Franklin commissioned a large plaque to be erected in his wife's memory in St.Pauls Chapel of Trinity Church in New York City.
Christopher Moore, The Loyalists: Revolution, Exile, Settlement,
McClelland & Stewart, Ltd., Toronto, 1984:

p.60: Governor Franklin of New Jersey, the illegitimate son of Benjamin Franklin, who had risen higher than his father, remained in office in search of conciliation until a revolutionary congress arrested him and sent him off to detention in Connecticut.
p.114: Simsbury Mines was "a cavern seventy feet underground" where prisoners were housed in the abandoned shafts of a former mine, and in the course of the war it held hundreds of loyalists, including William Franklin, deposed royal governor of New Jersey and the son of Benjamin Franklin.
(Note: this is in disagreement with several other historians; e.g., Sheila L. Skemp above.)
p.133: From the brutal treatment meted out to them in the name of liberty, many loyalists had learned to hate and despise not only the revolution but also their countrymen who supported or tolerated it. They looked for vengeance rather than reconciliation, and … they began to doubt Britain's commitment to the war. These men - among them William Franklin, the formerly conciliatory royal governor embittered by his own maltreatment and the death of his wife - became estranged both from America and from Britain. … Under Franklin's leadership the Board of Associated Loyalists advocated and carried out a policy of harassment and guerrilla raids against rebel territory all around New York.
The Oxford Dictionary of National Biography states that William is buried at St. Pancras Old Church:

St. Pancras Churches: St. Pancras old church has been there since Roman times (314), has a 6th.cent altar stone and some Norman features though heavily "restored" since. Entering the postcode NW1 1UL at http://www.streetmap.co.uk/ should find it for you. St Pancras Old Church ceased to be the parish church of St Pancras in 1822 when the St. Pancras New Church was opened and became a chapel of ease in the parish of St. Pancras.. In the 1852 Old St. Pancras was assigned a parish again, known as Old St. Pancras. For an unknown period from 1863 it was known as Pancras Parish Chapel, before reverting to Old St. Pancras again.
A map of the area of the church
Disturbance of the grave yard when St.Pancras Station was built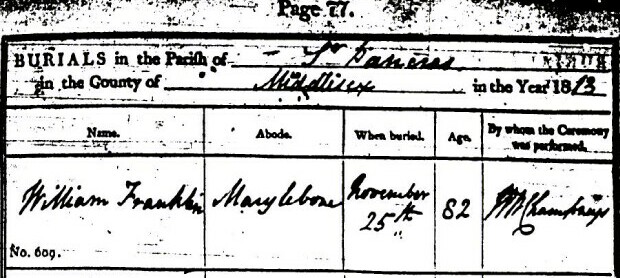 The burial date of 25 November makes me wonder about the death date of 17 November.
I went to the cemetery but was not able to find the grave, probably because it was dug up when the railway was expanded in the middle of the 1800s. There were many tomb stones stacked up against a tree inside a fence; William's may be among them.
William Franklin Papers: Abstract: The only son of Benjamin Franklin, William Franklin served as Royal Governor of New Jersey during the critical years between 1762 and 1776. An ardent Loyalist, William split with his father over their political differences in the early days of the Revolution, and after enduring two years of imprisonment, became a leader in the Loyalist cause. He settled in London in 1782, where he worked as an agent for Loyalist claims. The William Franklin Papers are a miscellaneous assemblage of letters and documents, dealing largely with Franklin's years as Royal Governor of New Jersey. The majority of the letters are perfunctory, however they provide some information on Franklin's land holdings in New Jersey and the Ohio country. The collection includes two letters relating to Franklin's imprisonment in Connecticut during the Revolution, two affectionate letters to his sister Sarah, and one to his son William Temple Franklin.
The Papers of Benjamin Franklin Project at Yale University
Each volume has reverences to William Franklin.
Pictures of William Franklin and his son William Temple Franklin
Portrait of William Franklin in color
Order for the arrest of William Franklin.
Governor William Franklin to the General Assembly about "The current imperial crises"
Descendants of William Franklin
Last marriage of William Franklin to Mary Johnson d'Evelin
Admission of William Franklin to the Middle Temple in London:



Used with permission of the Master of the Middle Temple.
The will of William Franklin is available from the National Archives of Brittain
It is hand written, of course, and is difficult to read.
A 1937 transcription of the will held at the Library of the American Philosophical Society.
Web pages about William Franklin:
William Franklin and Elizabeth Graeme
Virtual American Biographies: William Franklin
Letter to William from his father 1768
Letter to William from his father 1773
William Temple Franklin, son of William Franklin, grandson of Benjamin Franklin
http://www.roperld.com