Check the official documentation for items listed here to be sure and in case of changes.
350 volts

Tesla/Panasonic 2170 cell

(21-mm x 70-mm) 3.7-volts, 21.8 Wh

Standard

: 2976 cells; 31 cells/brick; 2 modules of 25 bricks & 2 of 23 bricks

Long-Range

: 4416 cells; 46 cells/brick;

2 modules of 25 bricks, 2 modules of 23 bricks

Long Range: 1054 lbs

Charger power:

Level-2:
Standard: 32-amps or 7.7-kW; Long-Range: 40-amps or 9.6-kW
Supercharger 30-minutes:
Standard: 130-miles or 70-kW; Long-Range: 170-miles or 91-kW

Supercharging Cost

Drive:

RWD; AWD optional; AWD Performance optional

Traction Control (p.51), Vehicle Hold (p.54), Park Assist (p.52),
Auto Wipers (p.48), Auto Dimming (upgrade download)

Traffic-Aware Cruise Control (p.61), Autosteer (p.67),
Auto Lane Change (p.70), Autopark (p.72), Lane Assist (p.74),
Collision Avoidance Assist (p.76), Speed Assist (p.79)
Hardware: 8 cameras, 12 ultrasonic sensors, forward radar
How Tesla Autopilot Works

Solid state fuses that are self resetting

Wheels

Can be used with software update 2019.24.2 or later , but no CCS adaptor

Note: "you need to lock the car ("turn it off") before the charging session will successfully start, or you'll get error messages on the charging station."


Range

Standard: 220-miles; Standard Plus 240-miles,
Long-Range: 310-miles/updated to 325-miles 1 Mar 2019
AWD Long-Range: 310-miles; AWD Performance-Long-Range 310-miles

Top speed

Standard: 130-mph; Standard-Plus : 130-mph; Long-Range: 140-mph

Acceleration (0-60-mph)

Long-Range: 130-MPGe or 3.97-miles/kWh or 25.1-kWh/100-miles
Standard-Range: 134 MPGe
AWD Long-Range: 116-MPGe
AWD Performance-Long-Range: 116-MPGe

Battery warranty

8-years or Standard: 100,000-miles; Long Range: 120,000-miles:
with minimum 70% retention of battery capacity over warranty period.

Basic warranty

4-years or 50,000-miles
Supplemental Restraint System: 5-years or 60,000-miles

Smartphones or Near-Field-Communication (NFC) key cards, up to 19.
Possibly to allow for car sharing.
Key-card X-Ray
Deconstructing the key card
Key Fob

Seating

5 adults

Display

15"-diagonal landscape screen
Most car functions are done using this screen.

Standard: 3539-lb; Long-Range: 3838-lbs
Distribution: 48-lb/52-lb

Body Panels

Steel:

front & back fenders, strips under & over doors, trunk cover;

Aluminum

:

frunk cover

, doors;

Plastic:

front & back bumpers;

Glass: roof

Dimensions

Length: 15.4', Width: 6,18', Height: 4.71'"
Center of gravity: 18.5"

Ground Clearance

5.5"

Solid Black ($0), Midnight Silver Metallic ($1500)
Deep Blue Metallic ($1500), Pearl White Multi-Coat ($2000)
Red Multi-Coat ($2500)


Safety

5-Star in all categories

AWD

Optional

MSRP

Standard: $35,000; Long-Range: $44,500; Delivery Fee: $1200
| | | |
| --- | --- | --- |
| Version | EPA Range (miles) | Price |
| Standard Range | 220 | $35,000 |
| Standard Range Plus | 240 | $37,500 |
| Long Range | 335 | $44,500 |
| AWD | 310 | $48,500 |
| Performance AWD | 310 | $59,500 |
Top: Turn signals; wiper; high beam
Bottom: Park, reverse, neutral, drive
Cruise control 1 down, Autopilot 2 down

1: Volume, song/station, mute; Wheel position; Mirror position
2: Cruise speed, distance; Voice control
Driver-facing camera: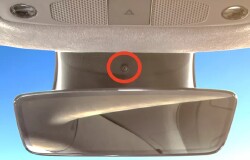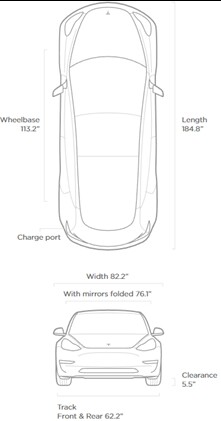 The bottom two were painted after purchase.
Tesla Model 3 Owner's Manual
Tesla Model 3 Emergency Response Guide
Tesla Model 3 Configuration
Inside Tesla's Model 3 Factory
Climate Control
Climate Control on when in Park
On and Dog Mode when Parked: When in Park press Climate button and choose On or Dog. Dog Mode keeps the climate control on, while the main screen displays a message: "
My owner will be back soon. Don't worry! The A/C is on, and it's 70 degrees

," or whatever temperature the owner sets. If leaving the temperature on that setting pushes the battery below 20 percent, the owner will get a push notification to take action. To turn it on, while in park, tap the fan icon, then set Keep Climate On to DOG.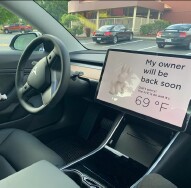 Also, there is a Party and Camping Mode.
Cabin Air Filter
2 identical thick filters, one above the other.
Prevents pollen, industrial fallout, road dust and other particles from entering the car. (p. 89 of Owner's Manual.)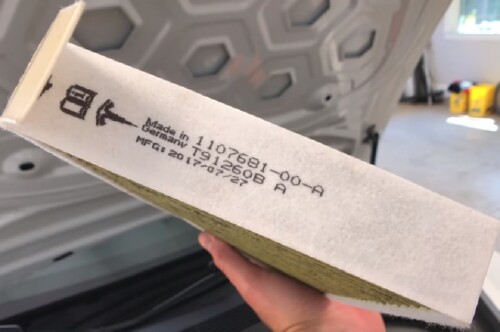 Premium heated seating and cabin materials throughout, including open pore wood décor and two rear USBs
12-way, power adjustable front seats, steering column and side mirrors, with custom driver profiles
Premium audio system with more power, tweeters, 15 surround speakers and subwoofer
Auto dimming, power folding, heated side mirrors
LED fog lamps
Ambient lighting
Center console with covered storage and docking for two smartphones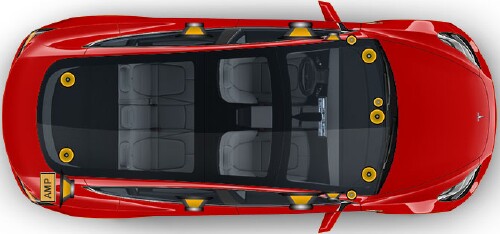 Location
SR
Standard*
SR+
Partial Premium*
MR/LR
Premium

Front Dash

2 – 4" mid-ranges

1 – 1" tweeter
2 – 4" mid-ranges

1 – 1" tweeter
3 – 4" mid-ranges

Side Mirrors

No

No

2 – 1″ tweeters

A pillar

No

No

2 – 2.5" mid-range

Front Doors

2 – 8" woofers

2 – 8" woofers

2 – 8" woofer

Rear Doors

2 – 4″ mid-ranges

2 – 4″ mid-ranges

2 – 4" mid-ranges

Rear

No

No

2 – 4″ mid-ranges
1 – 8" Subwoofer
TM3 Performance/AWD Configuration
Software updates are downloaded to the TM3. They occur at a rate of about one per month.
Battery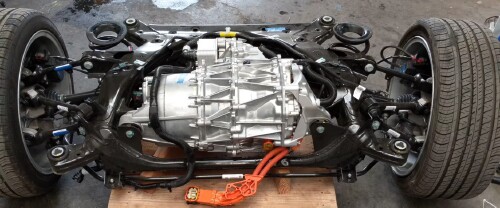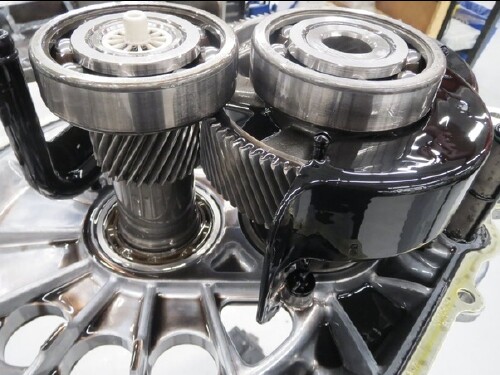 Single speed 9:1 ratio gearbox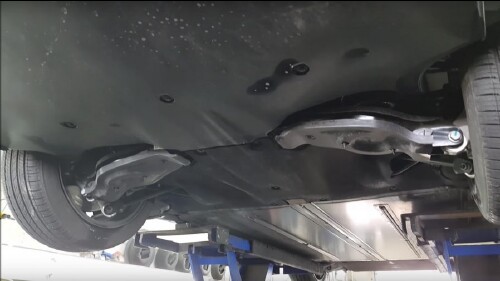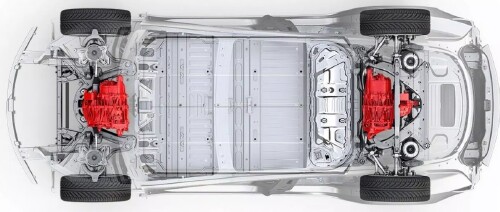 Model-3 AWD
Rotate tires every 6,250 miles
Change brake fluid every 2 years or 25,000 miles.
Change battery coolant every 4 years or 50,000 miles.
Range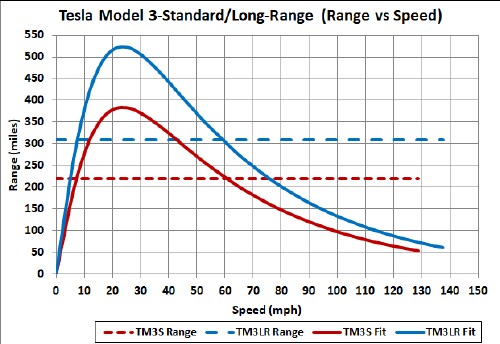 The curves are the function R(S) = R0tanh(S/tt)exp(-[S-Se]/te). These two curves for Model 3 were calculated approximately using a Model S/60-kWh (weight 4700-lbs) curve modified by:
Standard Model 3 (50-kWh, 3700-lbs weight): R(3S) = R(S60)*(50/60)*(4700/3700)

Long-Range Model 3 (75-kWh, 3700-lbs weight): R(3LR) = R(S60)*(75/60)*(4700/3700)
However, it may be that the larger-format Panasonic 2170 batteries in the Model 3 will cause a different decaying exponential time constant than is the case for the Tesla Model S, which uses the smaller-format Panasonic 18650A batteries. An estimate of range vs speed for the TM3 AWD gives the 5 data points in the graph below: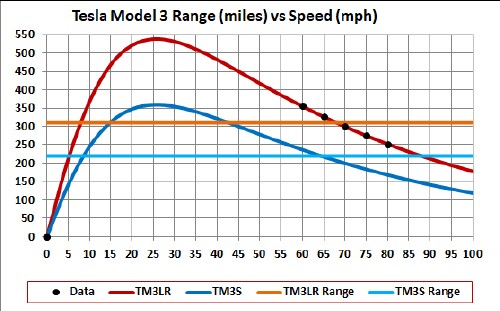 The red curve for TM3LR range fitted to the data points is R(S) = 206.4tanh(S/21.80)exp(-[S-91.49]/52.27).
The blue curve for TM3S range fitted is calculate by R(TM3S) = R(TM3LR)*50/75.
Here is another estimate of range vs speed for Tesla Models S, 3 & X: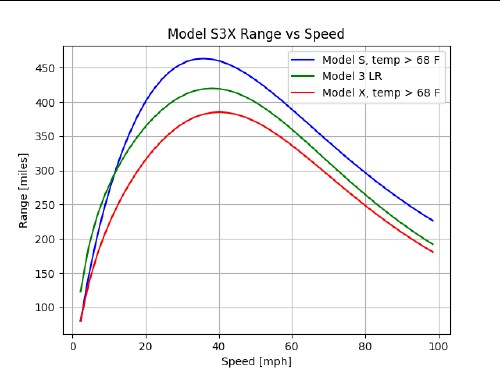 This curve compares the range the range-vs-speed curves for the Chevrolet Bolt EV to the two Tesla Model 3 curves: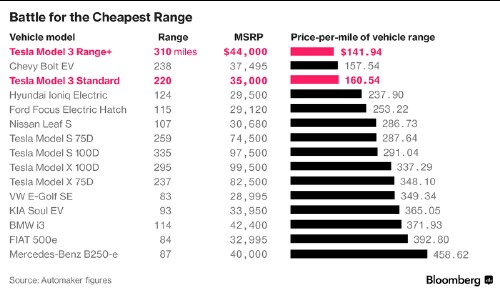 http://www.roperld.com/science/Virginia_TexasTrip.pdf
Tesla Model 3 Home Charging Guide
Recommended charging habits (Daily ~20% to ~80%)
Leave plugged in after finished charging for cells balancing.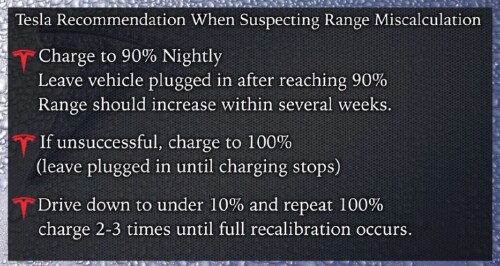 Charging equipment that comes with the TM3:
240 volt NEMA 14-50 adapter with mobile connector (~7.2-kW)
120 volt NEMA 5-15 adapter with mobile connector (~1.4-kW)
J1772 public charging adapter (~9.6-kW)
20-feet mobile connector with 3 adapters in a storage bag:
Optional Tesla Wall Connector (~11.5-kW):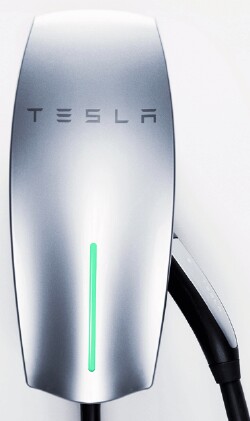 The Tesla CHAdeMO adapter is capable of being used with the TM3 (480-V DC, ~40-kW):
.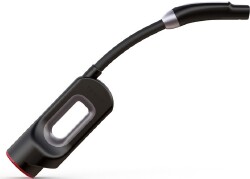 See http://teslapedia.org/model-s/tesla-driver/chademo-user-guide/.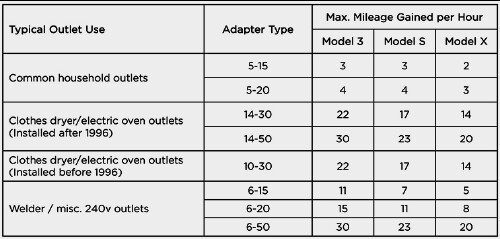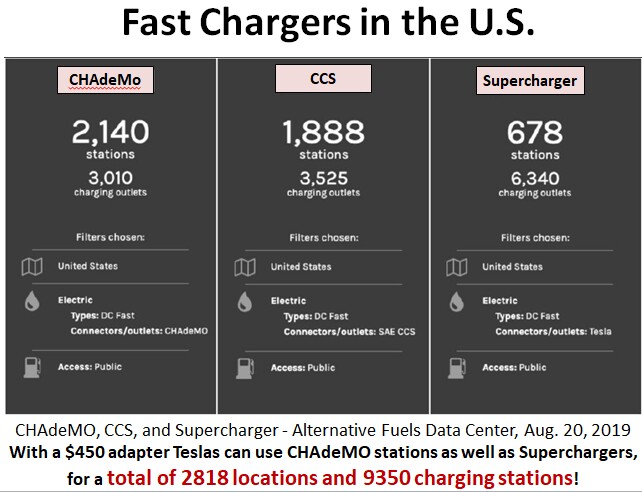 TM3 will have a CSS charging port in Europe. The Superchargers there will have two cables, one the standard SC cable and one the CSS cable. Soon there will be available a CSS adapter for Models S and X. Does this imply that a CSS adapter for Model 3 will soon be available in the United States? That adapter would greatly increase fast-charging capability for Model 3 in the U.S.!
https://electrek.co/2016/09/11/tesla-autopilot-radar-processing-v8-update/
8 Cameras: 3 at top of windshield, 2 pointing backward in front of the front doors, 2 pointing forward in the pillar behind the front doors and 1 on the rear trunk lid.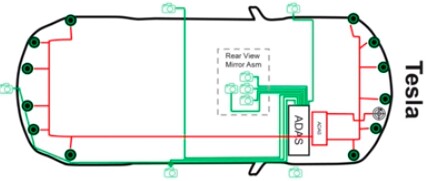 9 cameras are light green, 12 ultrasound sensors are dark green, radar on right front bumper is gray.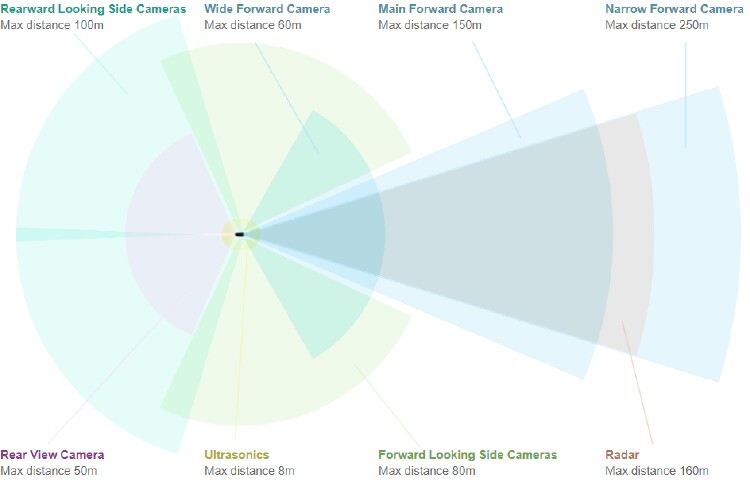 12 ultrasound sensors: 4 in front, 4 behind and 2 on each side.
The TM3 uses radar, not lidar, which is located in the front bumper
Superchargers Enabled (480-V DC, ~120-kW)
Supercharger at Burlington NC: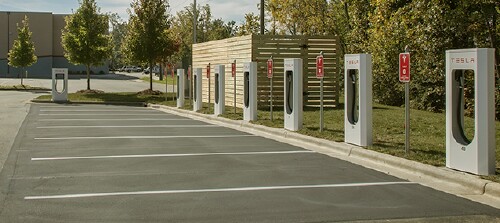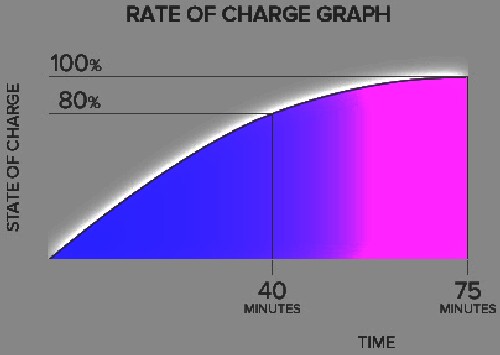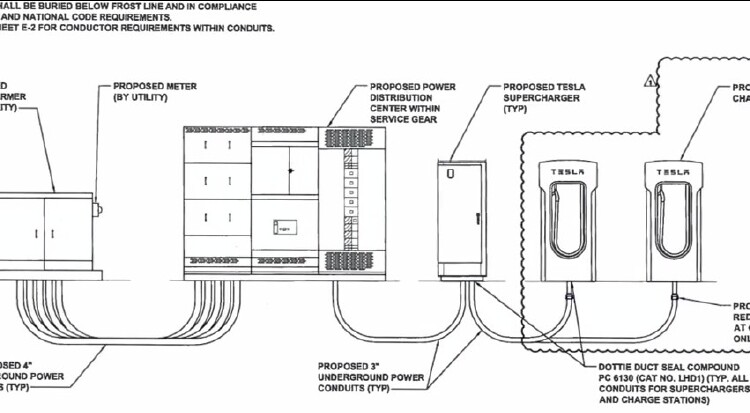 Tesla Wall Connectors
EPA Ratings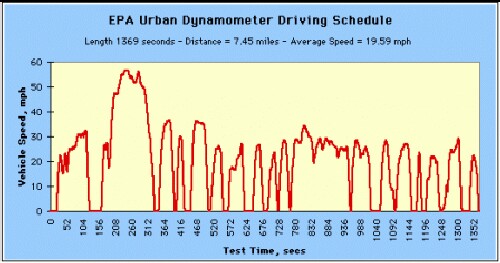 131 MPGe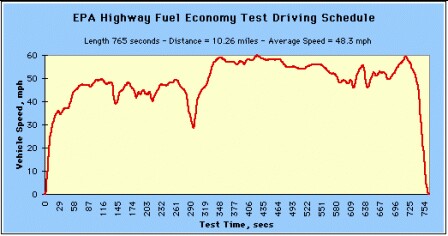 120 MPGe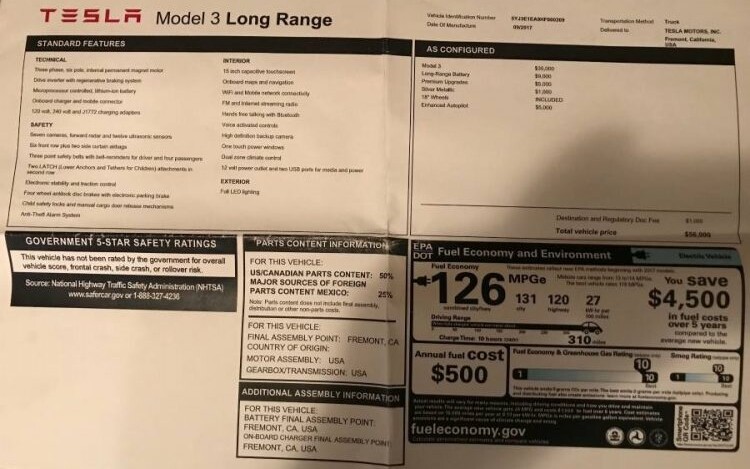 The MPGe was increased to 130.
Explanation of the EPA Monroney label
http://www.digitaltrends.com/cars/epa-rates-tesla-model-s-for-89-mpge-265-mile-range/
Safety
| | |
| --- | --- |
| | |
| Inside the front of a wrecked Model 3. | Crumple Zone at work, driver not injured. |
| | Low polar moment of inertia reduces crash damage. |
Model-3 Emergency Response
https://www.tesla.com/sites/default/files/downloads/2017_Model_3_Emergency_Response_Guide_en.pdf
Movie about TM3 emergency response
Movies
Books
Reviews
Awards
Accessories
References
Pictures
Many pictures of a silver Model 3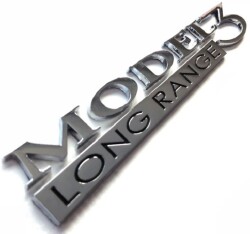 When I Can Get My Tesla Model 3
https://www.bloomberg.com/graphics/2018-tesla-tracker/
These curves are for the Long-Range RWD TM3 with a full battery. "Regardless of the state of charge...the torque remains the same until peak power,however,.the lower the battery charge is, the power caps off sooner."
Hardware Deficiencies
Blind-spot warning lights in side mirrors
Heated steering wheel
CCS/SAE-charging adapter or additional charging port for CCS/SAE charging
Mobile App
Miscellaneous
You really cannot power off a Tesla. If you could, there would be no way to open the door from the outside. The difference in the power off methods is in how much of the car gets powered off and when.
The normal way to power off the car is to walk away from it carrying the paired phone. The car locks and the screen goes dark; however, there is still some power to the car. Sentry mode can keep working; you can receive software update notifications, and you can use your app to query the car's cabin temperature and location. The similar way the car powers off is when you just sit in the driver's seat for 15 minutes without doing anything.
If the car remains unoccupied for longer periods of time, like overnight, the car shuts down more systems to preserve the battery. Over time the car sleeps more and more deeply.
The manual power off procedure (Controls > Safety & Security > Power Off) basically puts the car in the deepest sleep state immediately, but the car still has power because the door locks, for example, work, and communication with the app works. The specific virtue of the manual Power Off procedure is that power is removed from various hardware components, and this is what can reset a problem. As far as I know, the manual power off is the same as the automatic power off after it's been off for a long time.
For maximum power off, disable Dog Mode and Sentry Mode.
If all of the above fails to correct a problem, remove the cable from the negative 12V-battery terminal and then reattach it. That worked for the author when his Model 3 would not charge.
L. David Roper interdisciplinary studies
http://www.roperld.com/science/ElectricCarsMusings.pdf
Tesla: More Than Just A Car Company
Insideevs LDR articles