The Roper Family in Hoxne
L. David Roper
roperld@vt.edu
http://arts.bev.net/roperldavid
My Roper family lived in Hoxne, Suffolk, England from about 1500 to 1750 and possibly earlier. I am sure that the earlier generations are my ancestors. My ancestors came to Virginia 1620-50, so the latter generations are not my ancestors.
We know that the Hoxne Roper family is mine because the copious data clearly show that three Ropers in England that are shown to be related to me by Y-chromosome tests trace back by genealogy to the Hoxne Ropers. Also, a Roper who came to Massachusetts in 1637 from New Buckenham, Norfolk also descended from the Hoxne Ropers, and the Y-chromosome tests show that those northern USA Ropers and my southern USA Ropers are related. One of the tested English Ropers in our family had ancestors near New Buckenham (Bressingham and Shelfanger) since about 1800.
This family is labeled as the RY1 family, since it is the first Roper family shown to be related by Y-chromosome tests. I sometimes call our family the "Hoxne Roper" family. (The web page for the Roper male-lines Y-chromosome project is http://www.roperld.com/RoperGenetics.htm.)
An interesting twist is that the branch of the family in Massachusetts is more closely related to some of the Virginia Ropers than they are to other Virginia Ropers. The following phylogenetic tree (calculated and plotted by the Phylip and Treeview programs: http://www.roperld.com/PHYLIPTreeViewUse.htm) for 67 markers shows these relationships:
<![if !vml]><![endif]>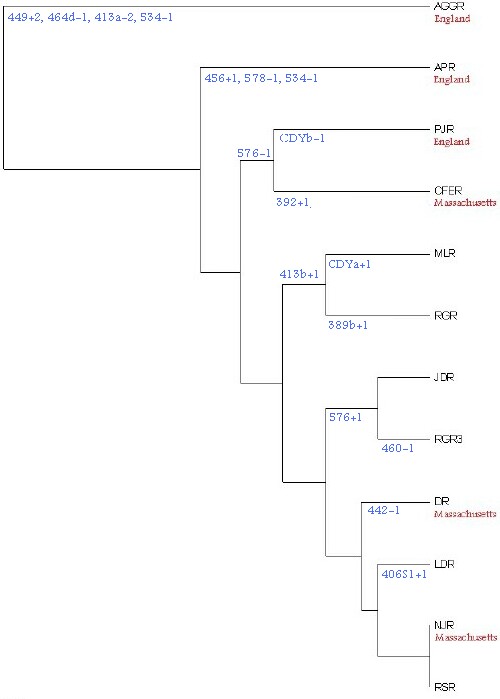 APR is English, NJR is northern USA and RGR, MLR, LDR and RSR are southern USA.
Time flows from left to right.
Possibly one branch of the Virginia Ropers came down from Massachusetts and the other branch came directly from Suffolk/Norfolk. As should be, the English Roper (APR) is not as closely related to the USA Ropers as they are to each other. It will be interesting to see how the other two RY1 English Ropers fit into this tree; their 67 markers are due in February.
Known branches of the Hoxne Roper family are:
One branch moved to Tibenham, Norfolk (13.5 miles away) about 1550.
One branch emigrated to Virginia about 1620-1650. It is not know whether it left from Hoxne or some other later location.
One branch moved to New Buckenham, Norfolk (13.5 miles away) before 1635. This branch emigrated to Massachusetts in 1637.
One branch moved to Bressingham, Norfolk (7.5 miles away) about 1750.
One branch moved to Eye, Suffolk (4 miles away) about 1790.
One branch moved to Thornham Magna, Suffolk (8 miles away) before 1800.
The above statements are known to be true by means of extensive genealogy work done by Peter James Roper of Great Yarmouth and myself, with help by William Alexander Roper, Jr. of Philadelphia.
The following picture of barely-readable tombstones at St. Peter and St. Paul Church in Hoxne shows the location of eight Roper graves (marked by x):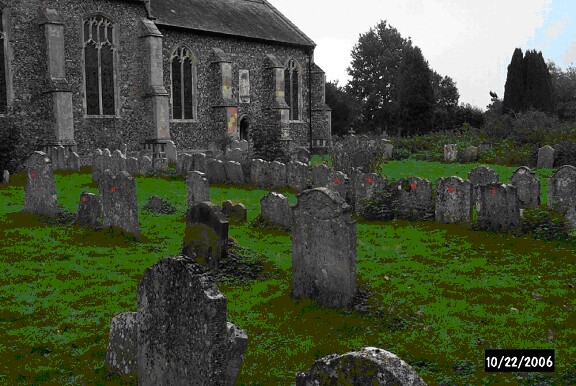 The front graves are near to the main door of the church and date to the early 1700s. Since the data show that this Roper family was in Hoxne from the 1500s or earlier, I suspect that those graves are on top of the graves of earlier Roper ancestors. A Samuel Roper (b c1742 d 1802) is buried under the floor near the altar of the church with his wife's family (Leman).
On 21 October I held a "Roper Union V" meeting at Bury St. Edmunds, Suffolk at which were 41 Ropers from at least ten unrelated Roper families that originated in Suffolk or Norfolk. Most of them were meeting for the first time, including those that are related. It was a very congenial meeting. As a result of the meeting several more Ropers were Y tested whereby some more unrelated Roper families were determined. (The web page for the meeting is http://www.roperld.com/RoperSuffolkEnglandMeet2006.htm. A link exists there describing an earlier Roper Union held in Thetford, Norfolk in February 2005, which was reported in Suffolk Roots.)
After the meeting in Bury St. Edmunds my grandson, Caio Ara˙jo-Roper, and I drove for four days visiting over twenty Suffolk and Norfolk villages known to be connected to Roper families.
I have been surprised and very pleased that so many data are available for our Roper family in the Suffolk Record Office, mostly in the form of parish records. Unfortunately, similar records are not available in colonial Virginia, which is why we do not know the exact connection of my Virginia branch to the other Hoxne Ropers. The U.K. census records back to 1841 have been very helpful, also.
We may hold a Hoxne Roper family reunion in Hoxne within the next year or two.
I welcome contact with any persons who are in the Hoxne Roper family or have data for our family. If any genealogy books have been written that contain information about Suffolk or Norfolk Ropers, I would like to know about them. I collect data for all Ropers.