Roper Family of Burke County NC
This is a sub-group of the North Carolina Ropers. I descend from this family.
Location of Burke County NC
Notes about Roper documents in Burke County:
A David Roper is listed as a son in a 1759 Charles City County, VA will for John Roper. Also, a David was in that county in 1780, 1782, 1787, 1800 and 1806. A Charles City County, VA 1763 deed exists between two Davids in Orange County, NC. So it appears that a David Roper, possibly with a son David, moved from Charles City County, VA to Orange County, NC and perhaps the younger David moved back to occupy the land in Charles City County. There were several David Ropers in both Charles City County, VA and Orange County, NC. It will be difficult to delineate among them.
The David Roper in Orange County, NC in 1755, when son David was born, and 1760 (Granville land grant) possibly is the younger David from New Kent County, VA or the older David from Charles City County, VA. He was in northern Orange County, which became Caswell County in 1777. In 1779 he deeded his land to William Roper and possibly moved to Rutherford/Burke Counties (almost on Border; land grant in 1778 and land map in 1795). He possibly had sons David, Jr. and James with him in Rutherford/Burke Counties (all are on 1790 censuses; James-Burke, others-Rutherford). (David, Jr. married Sarah France in 1788 in Rutherford County.) In or before 1792 he possibly, at about age 65, moved back to Caswell County with wife Sarah, where son William deeded some land back to him. Possibly David, Jr. occupied the land on the 1795 map.
Description of David Roper's land in Rutherford County, NC in 1795. (I believe that he is James Roper's father. Rutherford is just south of Burke County; the Ropers lived near the border in both counties.):
"A tract or parcel of land containing of 200 acres in the County of Rutherford lying near or joyning Judge McCayes and David Millers land on the waters of Crooked Run and Stoney Run inclouding his one improviment for compliment....2nd Agst 1795"
A 1795 land map shows a 100 acre tract of David Roper's just north of the Rutherford County border in Burke County at the top of Hickory Knob.
Map of David Roper's 100 acres in Burke Co. in 1795 (504 kbytes)
A map of "The South Mountains Speculation Lands being 30080 acre" granted to James Greenlee, James Erwin and William Erwin" dated 9 December 1795, surveyed and mapped by J. S. Montgomery, Lenoir, NC shows an arc-shaped tract of land inside the speculation area Just above Rutherford County that I estimate to be about 100 acres as belonging to David Roper. It lies at the extreme western head waters of Henrys River (Henry Fork River parallels Jacob Fork less than five miles to the north). Two creeks that cross the property begin at Hickory Knob at the NE property corner and at Probti's Knob SW of the property in Rutherford County (marked Icy Knob on 1987 Burke County map). Nearest marked tracts are Daniel Smith and Joshua Smith.
David Roper lived in southernmost Burke County at least by 1778. His probable son James Roper was twelve years old then, so this possibly was James' childhood home.
"By virtue of the warrant hereunto annexed No. 4153- Entered April 28 1801. I have surveyed fifty acres of Land for James Roper lying on mountain Creek." This creek is in central Rutherford County, too far from the Burke County border for the land to be confused as to its county location. I think "Mountain creek" refers here to what later became known as Roper Mill Creek, which is a branch of Henry Fork River which is a fork of the South Fork of the Catawba River. This land is near Walkers Chapel Baptist Church about nine miles NE of the David Roper land. This land lies next to River Road in the South Mountains about one mile west of the turnoff to Walkers Chapel Baptist Church; it now belonged to Frank Huffman in 1989. The old earth-rock mill dam is still very obvious, although it was washed out in the 1916 flood.
Apparently James Roper helped his son James Roper, Jr. build a log cabin in Burningtown, Macon, NC 1840-50: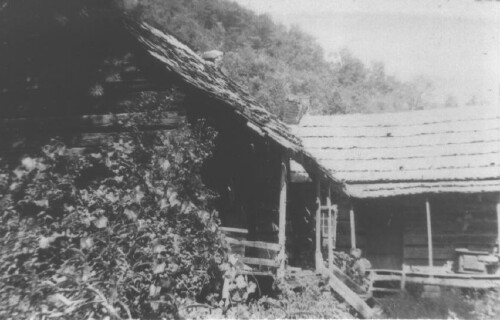 Picture provided by George R. Waller, Jr.
Samuel Roper is a undoubtedly a son of James Roper, because he was the administrator of James's estate in 1853.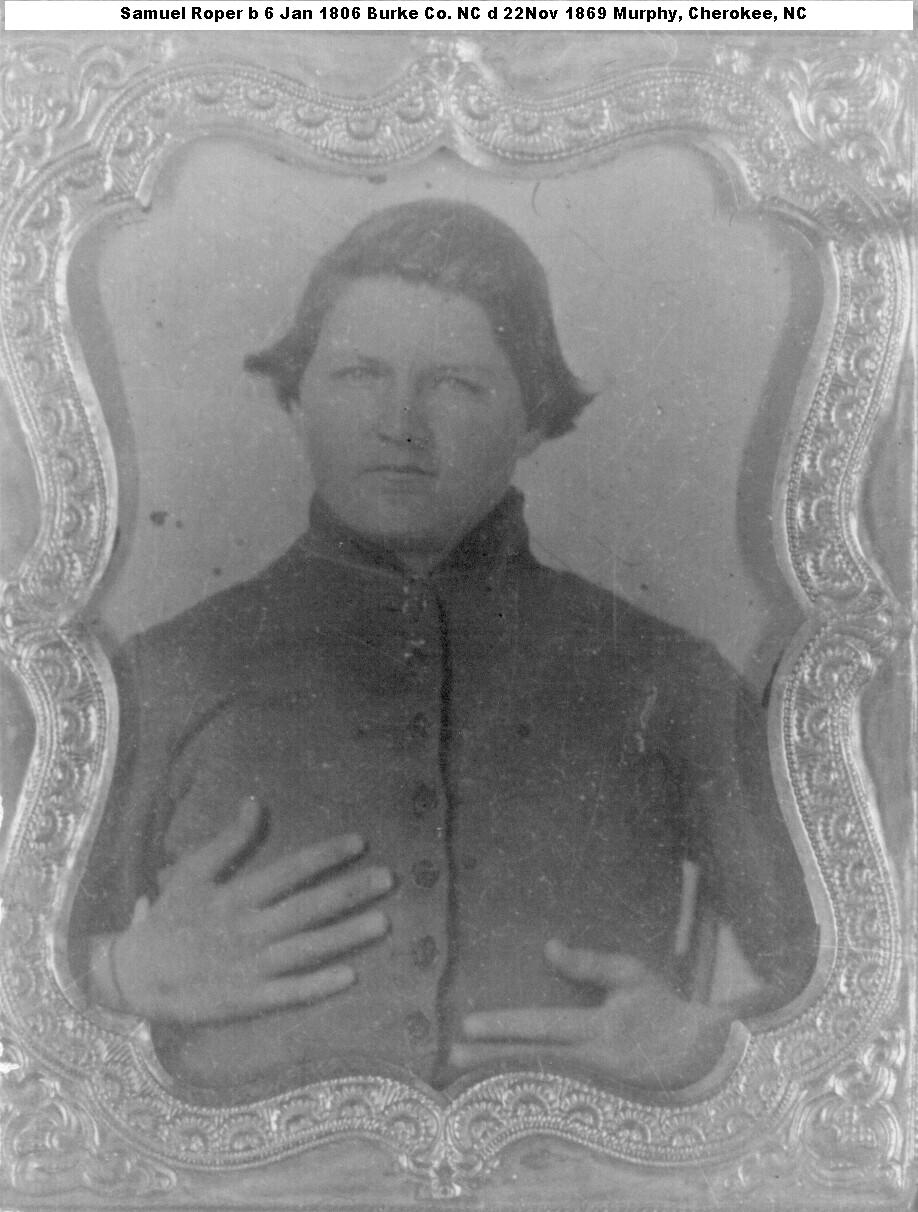 A picture of my gg-gfather, Samuel Roper, who was b 1806 Burke Co. NC d 1869 Cherokee Co. NC c1845.
He has on the US Army uniform that he wore in the removal of the Cherokee Native Americans from NW Georgia, SW North Carolina, SE Tennessee and NE Alabama.
Map of the Trail of Tears.
Joshua Rufus Roper, grandson of Samuel Roper
Download files:

The following files for over 10,000 names are available for downloading by clicking them:
www.roperld.com